Chocolate M and M Pretzel Buttons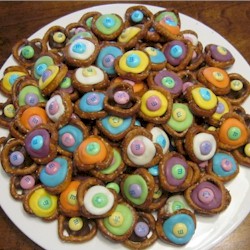 This delightful mix of salt and sweet Chocolate M and M Pretzel Buttons will be the hit of any party, especially one for teens. This is an easy snack to make and will definitely be the hit of the party.
Supplies
Mini Pretzels
Chocolate Melting Wafers-chocolate or pastel
Oven
Baking Sheets
Instructions
 Preheat your oven to 350. Take your pretzels and line them up like good little soldiers on your Cookie Sheets. Then place 1 Chocolate Melting Wafer on top of each one. 
Now put your pretzels into the oven – You only want the Chocolate to melt enough to stick to the pretzel and soft enough to stick in your M&M. The Milk Chocolate Wafers will melt a lot quicker than the Colors & Vanilla. After my first batch I separated them. I found the Milk Chocolate only took about 2 minutes and the Vanilla and the Colors about 3 minutes.
Once out take an M&M and place on the top of each one. Then I took my Cookie Sheet and stuck it into the fridge to set up and harden. When that is done they pop right off the Cookie Sheet and you are DONE !!!
This craft is reprinted courtesy of ThePartyAnimal.org.
Contributor

ThePartyAnimal.org
If you are looking to have a party to remember then thepartyanimal.org is the right place to come.