Domino Rocks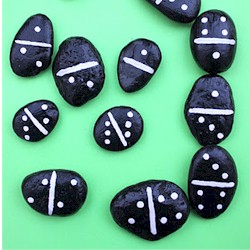 Here's another opportunity to combine an outdoor adventure with a quiet time craft project. These Domino Rocks also provide hours of fun play time when it is complete.
Supplies
Small Flat Rocks
Acrylic Paints
Mod Podge
Paintbrush
Newspapers
Instructions
Collect enough small smooth rocks to make a set of dominoes that goes up to six.
Wash and let dry.
Spread newspaper and paint rocks black. When dry add white lines and dots for your dominoes.
When dry add a layer of mod podge to create a glossy finish.
This should supply hours of happy play time playing dominoes with your own homemade game pieces.
Contributor

Repeat Crafter Me
Sarah is a stay-at-home mom to her 1 and 3-year-old boys. She is also an artist and graphic designer that loves crafting with her kids, taking on DIY projects, crocheting and attempting to cook with the help of her Crock Pot.