Creating A Special Space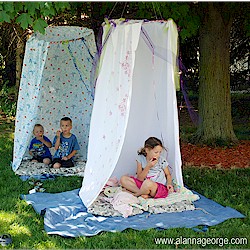 Sometimes kids just need their own private space and a tree house may not be in your skill set. Here's a way to create that area and the kids can help to make it perfect for them.
Supplies
Hula Hoop
Safety Pins
Twine or Rope
Tulle and/or Ribbon
Sheets
Scissors
Cushions and Blankets
Instructions
Pin the top edge of the sheet to the hula hoop by folding the sheet over and pinning it to itself. (see pic below)

Use twine to create a hanger to tie your hideout to the tree with. I used two long pieces of twine and tied each piece to opposite sides of the hula hoop. The two pieces then criss-crossed over each other. I tied the two together where they criss-crossed with another piece of twine. Later I used that piece to actually tie the hoop into the tree.

Tie on tulle and ribbons or any other embellishments you have. Hang the hideout from a tree branch.

Add blankets and cushions underneath your fort so you can be nice and comfy.

Take a little nap or eat a snack inside your new hideout.
This project is reprinted courtesy of The Craft Nest where you will find lots of great ideas to keep the kids occupied.
Contributor

The Craft Nest
Alanna began her career as a Design Manager in the scrapbooking industry. After the birth of her first daughter she turned freelance designer, crafter and stay-at-home mom. She resides in Michigan with her husband and their four kids (2 girls and 2 boys). You can find more crafting ideas and how to's at her blog, Alanna George | The Craft Nest (www.alannageorge.com).