Cotton Ball Santa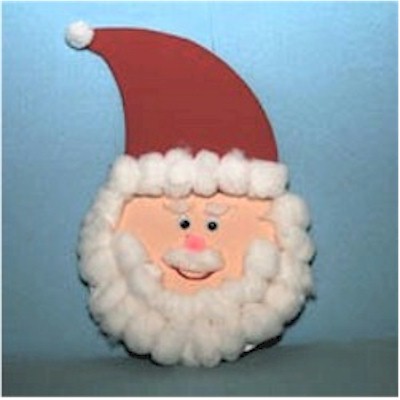 Paper plates, paint, lots of glue and cotton balls and a few handy materials are all kids need to make this fun Cotton Ball Santa craft.  It has a bunch of fun textures and makes a great exercise in following directions.  Your children will love the end result and it makes a great homemade Christmas decoration.
Trivia: In the mid 1800s, poet Thomas Nash wrote a poem that famously placed Santa's home in the North Pole, even though the original saint lived in Turkey. Nash most likely chose the North Pole because, at the time, there were several scientific explorations to the North Pole, a region that was seen as a type of fantasy land, mysterious and just out of reach. Source: Fact Retriever – 50 Jolly Facts about Santa Claus
Supplies
Small paper plate
Craft paint: flesh tone
Red craft foam
Cotton balls
2 googly eyes
1 pink pom pom
Scissors
Glue
Paint Brush
Red marker or crayon
Instructions
Turn the paper plate upside down and paint it in the flesh tone of your choice. Set the plate aside to dry.
Cut a hat shape out of red craft foam and glue a cotton ball to the tip of the hat and then glue a line of cotton balls along the bottom of the hat.
Once the paper plate is dry, glue the bottom of the hat to the top of the paper plate.
Glue a "beard" of cotton balls along the outside edge of the paper plate.
Glue two googly eyes onto the plate near the hat.
Glue a pink pom pom under the eyes as a nose.
Cut a cotton ball in half and glue above the eyes as eyebrows.
Cut a cotton ball in half and pull it slightly to form a mustache. Glue under the nose.
Use the red marker to draw a smile under the mustache.
Contributor

All Kids Network
All Kids Network is a network of websites dedicated to providing fun and educational activities for parents and teachers to do with their kids. We have hundreds of kids craft ideas, kids worksheets, printable kids activities and more. So far, we have two main sites – allkidsnetwork.com and kidslearningstation.com.
Supplies
Instructions
Contributor

Sudbudz
Want to have some creative family time? Print out our SudBudz® Masks and get crafty with the kiddos! More than just a typical Fizzy Bath Ball, SudPrize® is a first ever line of skin-loving and natural bath products that make bath time Fun for Kids and Easy for Moms. A Free companion App, SudBudz® engages your children into an immersive world of special and unique characters called SudBudz®.