Easy Handprint Reindeer Hat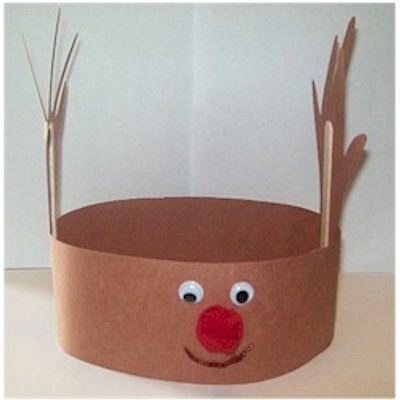 Be Rudolph the Red Nosed Reindeer with  this Easy Handprint Reindeer Hat.  Make antlers from your handprints, add the red nose and you can guide Santa's sleigh. This is not a messy handprint craft and the kids will love prancing around with their handprint antlers.
Trivia: In 1939, execs for the Montgomery Ward department store decided they needed a character for the freebie coloring books they were handing out to kids who visited Santa. That character ended up being Rudolph, who was an immediate hit with the kiddies. Montgomery Ward gave out 2.4 million copies of the Rudolph booklet in the first year alone. Source: Mental Floss – 12 Shiny Facts About Rudolph the Red-Nosed Reindeer
Supplies
2 pieces 0f 8.5″ x 11″ piece of brown construction paper
Craft sticks
Google eyes
Small red pom pom
Scissors
Tacky craft glue
Red marker
Instructions
Cut 2 3-1/2″ wide x 11″ long strip from the brown paper. Glue the stips together to make a long band.
On the 2nd sheet of brown, trace two handprints – one left and one right – onto the brown paper. Cut out.
Wrap the paper strip around the child's head until it is snug. Hold it and remove it from the child's head. Trim off the excess. Glue together.
Place a handprint inside of the crown on each side. Glue the antlers to the band. Add some tape to hold them in place until it dries. Glue a craft stick to the middle of the palm of the handprint. extending to the band. This is to keep the "antlers" standing tall.
Glue the eyes and nose onto the front of the crown. Add a smile with the red glitter glue or with a red marker.
Wear your creation!
Other Images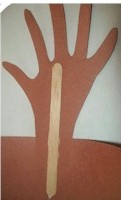 Contributors

Kids Crafty Creations
Kids Crafty Creations is a collaboration between Carol M. Edwards and her daughter, Kennice, as an expression of their love of crafting. In addition to easy and inexpensive crafts, activities and games, you will find articles on the importance of arts and crafts and play to child development.
Supplies
Instructions
Contributor

Sudbudz
Want to have some creative family time? Print out our SudBudz® Masks and get crafty with the kiddos! More than just a typical Fizzy Bath Ball, SudPrize® is a first ever line of skin-loving and natural bath products that make bath time Fun for Kids and Easy for Moms. A Free companion App, SudBudz® engages your children into an immersive world of special and unique characters called SudBudz®.