Cardboard Tube Leprechauns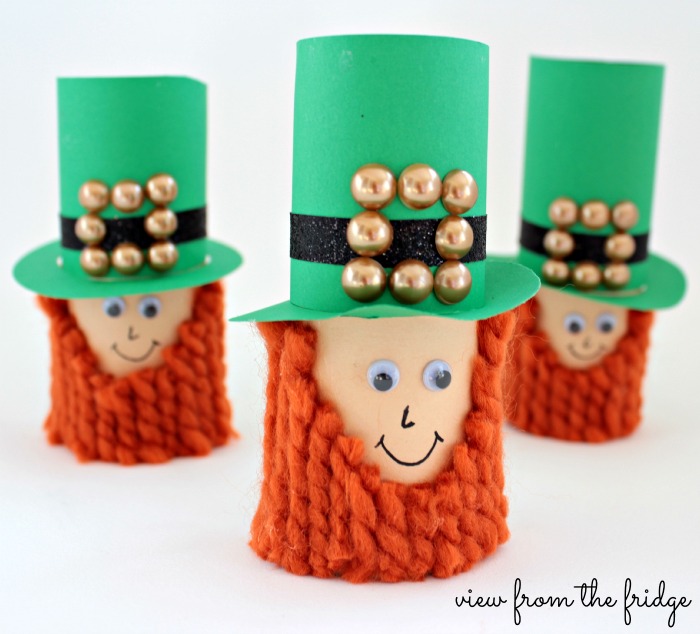 St Patty's Day is just around the corner and the Cardboard Tube Leprechauns have a mischievous twinkle in their eyes as they hide their pots of gold. 
Supplies
Small Cardboard Tube
Green Paper
Skin Tone Paper
Black Ribbon or Paper
Circle Punch (optional)
Orange Yarn
Glue on Wiggle Eyes
Black Fine Point Marker
Gold Sequins or Gold Marker
Glue
Instructions
Gather supplies
Place glue on back of skin color paper, and wrap around toilet paper roll. Place clothespins along edges to hold in place while it dries.
Glue ribbon or black strip of paper to green paper along the bottom edge.
Place glue on back of green paper, and wrap around other side of roll. Again, clothes pins can hold in place while you wait for it to dry.
Punch green circle for brim of hat (at least 1″ larger than your roll). In the center of punched hole, trace the diameter of t.p. roll and cut out.
Slide 'brim' on leprechaun from the bottom up. It should be fairly tight, and therefore you don't need to glue in place (it should stay put). Add embellishments to hat now, too.
For beard, spread glue onto the face of the leprechaun as shown (form a beard shape around a face that will be created next).
Glue strips of yarn into place on face. Position the tops of the pieces where you want them around the face, letting the excess hang over the bottom edge of roll. When dry, trim bottom edge of yarn to be even with bottom of roll.
Make the face: Glue on eyes, and draw nose and mouth.
Contributor

View From The Fridge
Katie is the writer and creator of View From The Fridge. She is also the mom to two adorable little boys (and another baby on the way), and wife to a great guy! She loves to craft, decorate, dream up projects for her home, and she's learning to love to cook (though not there quite yet). She started View From The Fridge in the fall of 2013. Katie also enjoys coffee, a good glass of wine or beer (when she's not expecting!), running, and anything outside. She lives in Minnesota and takes full advantage of the wonderful (but short) summer season outside with her family.