Recycled Spoon Easter Card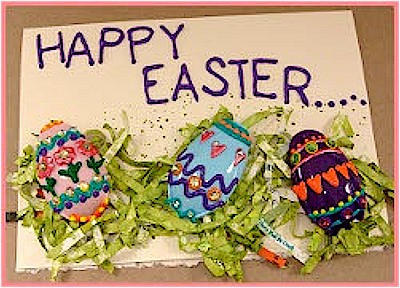 Turn those white plastic spoons into this Recycled Spoon Easter Card. This craft is not for young children but responsible teens may find it creative and fun.
Supplies
Blank card 5" x 7"
Shredded paper (I used paper from my paper shredder)
Tulip Fabric Spray Paint - green
Plastic spoons - assorted colors
Tulip Dimensional Paints - assorted colors
Glue (I used Aleene's Tacky Glue)
Alphabet stencil (1" tall letters)
Pencil
Waxed paper
Small candle and matches
Instructions
Place the shredded paper onto waxed paper and spritz with the spray paint.
Turn over and spritz again. Spread out and let dry.
Glue the dried painted shredded paper along the bottom edge of the card. Let glue dry.
In a well-ventilated area, carefully hold the plastic spoon over the candle flame (but not in the flame). The flame should be under the area where the handle meets the bowl of the spoon.
Within a few seconds the heat of the candle will soften the plastic. Pull the handle apart from the bowl of the spoon.
If you need to trim the edges of the bowl or the stem, return to the heat of the flame for a few seconds to soften plastic. Then cut or trim while the plastic is still soft. Be careful! If you leave the plastic in the heat too long the plastic will be hot.
Shake the dimensional paint down to the tip before using and always test before applying to project. Carefully squeeze the paint into different patterns and shapes onto the outside of the spoon bowl. Let paint dry completely.
Lightly trace the letters with pencil onto the card, using the alphabet stencil.
Cover the pencil tracing with the dimensional paint.
Glue the dried Easter eggs onto the card into the shredded paper.
Other Images
Click on an image to open it in a new window
Contributor

Heidi Borchers for inspiredathome.com
Heidi Borchers hails from the first family of crafting. As daughter of Aleene Jackson, inventor of Aleene's Tacky Glue, Heidi's creative design projects have delighted worldwide crafters for over 30 years. Heidi's specialty is eco-crafting and she is the author of hundreds of craft books. She is co-host of Inspired at Home Radio, a live weekly talk-radio show featuring ideas for living a creative life. www.inspiredathome.com