Giant Stick Puppets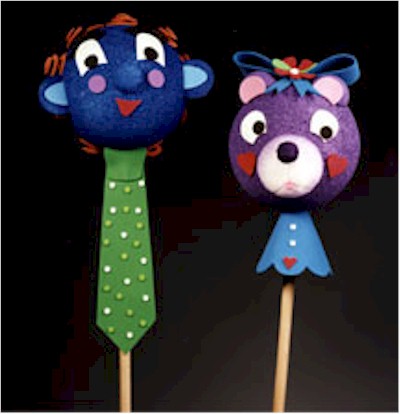 You can make these Giant Stick Puppets as fantastic as you want, just use your imagination to create aliens, dragons, or whatever you can dream up. When you are done create your own backyard or school play with your giant puppets.
Supplies
STYROFOAM Ball, 6"
Wooden dowel, 7/16" x 30"
Acrylic craft paint, assorted colors
Craft foam: assorted colors
Construction paper, assorted colors
Embellishments (optional): 1", 2" and 2-1/2" balls
yarn; buttons; ribbons; trims;
wiggle eyes; chenille stems; drinking straws; tissue
paper; toothpicks; candy cups; pom poms; felt
Paintbrush, 1", firm
Wooden skewer, pencil or chopstick
Wide mouth jar
Scissors
Thick, white craft glue or low temperature glue gun
Instructions
1. Insert skewer, pencil or chopstick in foam ball to use as handle. Paint foam ball color of your choice. Let dry.
2. Place head on large mouth jar and get ready to decorate!
Blue puppet sports spiral hair cut from orange craft foam; ears made from a foam ball cut in half; a nose made from a foam ball; and mouth, cheeks and eyes cut from craft foam. His green tie is made from craft foam and decorated with foamie polka dots.
The purple teddy bear has a muzzle, nose and ears made from foam balls; her hairbow and collar are made from craft foam, as are her eyes and cheeks.
Here are some other ideas, but don't be afraid to experiment:
3. Hair: insert pieces of yarn, drinking straws or chenille stems into top of head.
4. Eyes and nose: Cut from craft foam or construction paper, or glue on foam balls, wiggle eyes, candy cups, buttons, pom poms.
Contributor

Styrofoam Brand Products
STYROFOAM™ brand from Dow is one of the most trusted and widely known brand names in the craft industry. From Christmas ornaments to wedding topiaries, they have helped shape your crafting memories for 60 years. Today, their high-performance foams are helping you make tomorrow's memories.