Button Garland Topiary Tree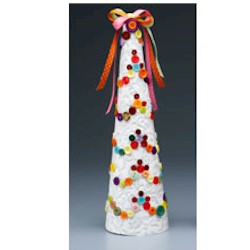 Crafting with buttons is fun, and you can use your favorites from your stash to create this cheery and bright holiday topiary tree. At 12″ tall, it's just right for mantle or table centerpiece.
Supplies
STYROFOAM Brand Foam Cone, 12" x 4"
Paper: printer-weight; white embossed floral, 12" x 12"
Polka dot grosgrain ribbon, 3/8" x 1/2 yd.: pink; orange; light green
Small multicolored buttons, one package
Ruler
Pencil
Scissors
Scissors
Craft pins
Paintbrush
Instructions
Click on Printables and print pattern onto printer paper; enlarge and cut out pattern as indicated.
Trace pattern onto backside of embossed paper close to one edge, making sure all parts of pattern fit onto paper. Flip pattern over to trace second half along "fold" line. This technique helps avoid unattractive fold lines in embossed paper.
Using paintbrush, apply thin, even coat of paper paste to foam cone. Smooth paper around cone, overlapping ends at center back. Dab paste beneath paper seam where edges overlap; pin paper edges until paste dries. Remove pins.
Refer to photo to very lightly pencil in garland lines for buttons. Varying buttons as desired, dab back of each button with small amount of paper paste and press to cone. Let dry. For center of each upper garland, layer two buttons for added interest.
Tie each ribbon into a small bow with tails. Glue and pin bows to tip of cone as shown. Glue a single button to center of multi-loop bow.
This craft was designed by Kathleen George and reprinted courtesy of Styrofoam Brand Products.
Patterns, Templates and Printables
Click on a pattern to open it in a new window
Contributor

Styrofoam Brand Products
STYROFOAM™ brand from Dow is one of the most trusted and widely known brand names in the craft industry. From Christmas ornaments to wedding topiaries, they have helped shape your crafting memories for 60 years. Today, their high-performance foams are helping you make tomorrow's memories.