ChristmasTree Button Tote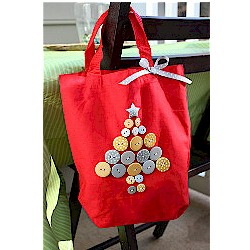 Here is an easy Christmas craft that teems will love and make great gifts for their girl friends. The instructions are simple and the materials can be found easily at the craft store. This easy Christmas craft is great for gifting or toting around the holidays.
Supplies
Tote bag
Buttons
For Christmas Tree: 9 small, 12 large, 1 star in silver and gold)
Needle & thread
Ribbon
Instructions
Lay out buttons to resemble Christmas tree shape next to tote bag. I used small and large as well as gold and silver buttons.
 
One by one start to sew each button on to the tote in the shape that you laid out next to the tote.
 
Continue until you are done.
Tie a ribbon in a bow and sew to where the handle attaches to the tote.
 
Use your bag as a gift bag or tote it around town.
This craft was designed by TyAnne Roberts and is reprinted courtesy of FaveCrafts.com.
Contributor
FaveCrafts.com
FaveCrafts is owned by Prime Publishing LLC, an Internet Media Company that operates web site communities, e-mail newsletters and e-commerce stores in niche areas such as crafting, home décor, wellness, and cooking. See their craft projects at https://www.favecrafts.com/