Melting Snowman Cookie Balls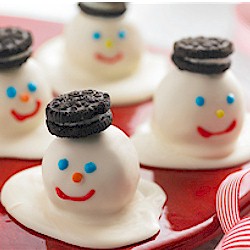 These fun winter treats will be a hit with all the kids and grownups will want to steal some too.
Supplies
pkg.  (8 oz.) PHILADELPHIA Cream Cheese, softened
24  NUTTER BUTTER Cookies, finely crushed (about 3 cups)
2pkg.  (6 squares each) BAKER'S White Chocolate, melted
48  Mini OREO Bite Size Cookies
2Tbsp.  decorating icing
Instructions
MIX cream cheese and cookie crumbs until well blended.
SHAPE into 48 (1-inch) balls; place in single layer in shallow pan. Freeze 10 min. Dip balls in chocolate; place in shallow waxed paper-lined pan, allowing excess chocolate to pool at bottom of each ball. Decorate with remaining ingredients as shown in photo.
REFRIGERATE 1 hour or until firm. Keep refrigerated.
HOW TO EASILY DIP BALLSTo easily coat balls with the melted chocolate, add balls, in batches, to bowl of melted chocolate. Use 2 forks to roll balls in chocolate until evenly coated. Remove balls with forks, letting excess chocolate drip back into bowl. Place balls in prepared pan; let stand until firm.
This craft is reprinted courtesy of Kraft Foods.
Contributor

Kraft Foods
For over two hundred years, many companies have united to make Kraft Foods what it is today. Check out their heritage page and learn the many companies that comprise the Kraft family of foods.