Bottle Cap Art Project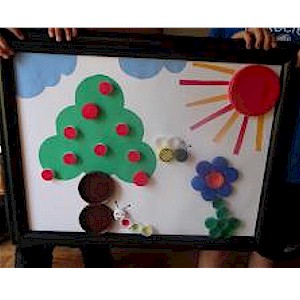 Here is another way to get the kids interested in crafting with recycled materials. Portland, Oregon contest winners, Elin and James' mom writes "My son and daughter are very creative and artistic. I collected the bottle caps since we cannot put them in the recycle bin. My kids loved all of the different sizes and colors, so I suggested that they can use these to make some art. I bought a big frame at a garage sale for this project. They came up with the very creative idea of making an apple tree, bee and a flower. Their next project theme will be "under the sea".
Supplies
Bottle Caps, different sizes
Construction paper or colored pens
Canvas or old frame
Tacky Glue or Glue Gun
Instructions
This is an easy, inexpensive and eco friendly project.
1. Collect bottle caps of different colors and shapes.
2. Design an image.
3. Glue caps to image on canvas or old frame matching shapes and colors.
4. You can use construction paper or color pens along with your bottle caps to complete the picture.
Contributor

FreeKidsCrafts Contest Winner
IT'S A WINNER! Take a look at what one of our talented viewers submitted to share with you. This craft was selected as one of this month's winners to received $50 in craft supplies. Click here to find out how you can enter your original creation for our judges consideration.