Indigo Cat Puppet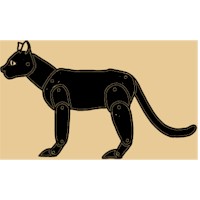 Black cats are always around for Halloween, but what about the rest of the year? Here's a fun cat that will play around with you 365 days a year.
Supplies
Card Stock or Heavy Paper
Small brads
Small hole punch
Sharp Scissors
Small piece of styrofoam
Small stick or skewer for handle
Instructions
Card Stock:
The easy part is going to be printing the puppet out on 65 lb., 90 lb., or even 110 lb. card stock, unless of course, you haven't any. Then it would be best to print out the puppet to color on regular copy paper, cut them out and trace them onto heavier paper. A old manila folder, or paper of the same weight as manila folders works fine.

Copy Paper:
You can also just print out the puppet on copy paper and glue the pieces together over another sheet in any way you like, although I think the puppets would prefer not to have their feet on their arms or their heads on their elbows.

Cutting Out the puppet:
Before you start cutting, color the black & white drawings. Use a good pair of scissors , be patient and cut slowly - you can do it!

Holes for the Brads:
If you haven't a small hole punch to make the holes for the brads, you can use a large darning needle, an ice pick (An ice pick? Does anyone know what an ice pick is anymore?), the tip of an X–ACTO® blade or small sharp pointy object such as small scissor tips. These holes don't need to be very large because you can work the brads carefully into them and that keeps them tight. If you have no brads and no hope of getting any, don't fret. These little puppets look great in a pose, either taped or glued in place.

Please ask an adult to help if you are unsure of yourself or very young.

Putting it all Together:
You can find teeny tiny brads with small colorful mini flowers or mini stars in the scrap booking department of most craft stores. These are perfect for assembling paper puppets. We use a small round head brad in blue for the tail. You can use what ever you like.

After you make the very small holes for the mini brads, carefully work the prongs through the holes from the front of the top piece and spread the legs of the brad in the back. Try to keep them a bit tight so the puppet will hold a pose.
This craft is reprinted courtesy of PheeMcFaddell.com.
Patterns, Templates and Printables
Click on a pattern to open it in a new window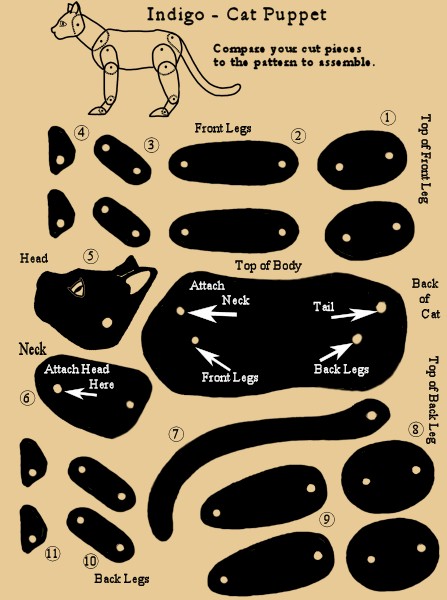 Contributor

PheeMcFaddell.com
In Phee's words "It's really all a matter of learning to use your imagination, all proper like of course, instead of treating it like that ugly third cousin you'd just as soon stuff in a closet as look at. And what do you suppose this world of yours would be like if there weren't some around brave enough to be creative? Well, you'd be missing a whole lot of conveniences I'll tell you that, plus the scientific developments, and all the beautiful art."