Beaded Flower Shoe Clip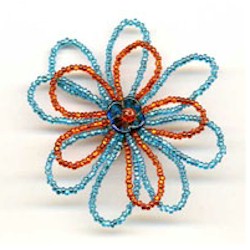 Be the first kid on the block to make this craft and start a trend. Bright colors and a simple design make this a perfect summer project.
Supplies
3 yds 28g craft wire
2 6mm soldered rings
1 pair shoe clip findings
2 colors 11/0 seed beads
2 8mm flat flower bead
2 4mm round firepolish
Wirecutter
Chain-nose Pliers
Glue (E6000)
Instructions
Anchor a piece of 28g wire to a soldered ring by winding it around a couple of times, leaving a 1" tail.
String 2 1/2" of seed beads onto the long wire, slide down to the base and wind wire around the ring next to the anchor wire. This will create a loop that is the first petal of your flower.
Continue the process until you have 8 petals around the ring.
Add 1 1/2" of a contrasting color seed beads and make a petal.
Repeat 4 more times until you have 5 petals.
Thread the long wire up through the center, string on a flat flower, add 4mm bead and thread back down through the flat flower, pull firmly and twist the two tail pieces to secure.
Glue on shoe clip finding with E6000. Be sure to wait a full 24 hours for the glue to cure before using. If your shoe clips have holes you can get additional security by weaving the wire in and out of the holes.
This craft is reprinted courtesy of FaveCrafts.com.
Contributor
FaveCrafts.com
FaveCrafts is owned by Prime Publishing LLC, an Internet Media Company that operates web site communities, e-mail newsletters and e-commerce stores in niche areas such as crafting, home décor, wellness, and cooking. See their craft projects at https://www.favecrafts.com/