Coral Snake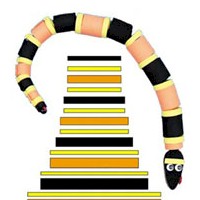 Kids, especially boys, will find this Coral Snake a fascinating craft.The colorful snake is found in the southern desert region of the United States. It's very poisonous and much friendlier as a craft project.
Supplies
Adhesive foam sheets - Black, Orange and Yellow
8mm Black bead
2 Red chenille stems
2 Wiggle eyes - 8 mm
Scissors
Glue
Sequin pins
Optional: Plain foam sheets and glue
Instructions
Bend a 1" hook in one end of two chenille stems. Interlock hooks then twist securely. Add a black bead to one end of chenille stem. Wrap a 1" hook around bead, then twist hook onto chenille stem. Trim chenille from stem around bead. Bend a 1" fork tongue at the other end of stems. Twist each fork together.

Cut adhesive foam strips as shown. Remove paper backing from shortest black foam strip. Beginning at bead end, wrap foam strip around chenille stem. Wrap the shortest yellow strip next to the black coil. Wrap the shortest orange strip next to the yellow coil. Push coils together toward bead end. Continue adding foam strips, graduating from shortest to longest strips. Insert a sequin pin at the end of each coil to hold in place.

Cut two head shapes with neck tab. Cut and remove paper backing on each tab on back of head only. Stick tabs and head back together, on each side of chenille stem. Wrap the 6" orange neck strip around the chenille stem, covering tabs.

Cut a 1" x 1/4" yellow foam strip. Stick strip across top of the head. Glue wiggle eyes below yellow stripe.
This craft was designed by Pati Cox and is reprinted courtesy of HandsOnCraftsForKids.
Patterns, Templates and Printables
Click on a pattern to open it in a new window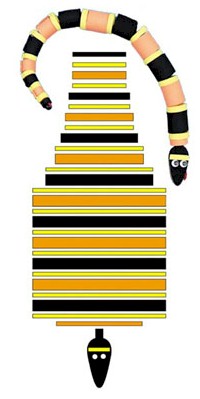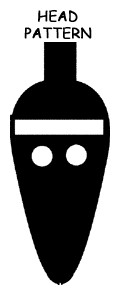 Contributor

Sudbudz
Want to have some creative family time? Print out our SudBudz® Masks and get crafty with the kiddos! More than just a typical Fizzy Bath Ball, SudPrize® is a first ever line of skin-loving and natural bath products that make bath time Fun for Kids and Easy for Moms. A Free companion App, SudBudz® engages your children into an immersive world of special and unique characters called SudBudz®.