Yarn Wrapped Lion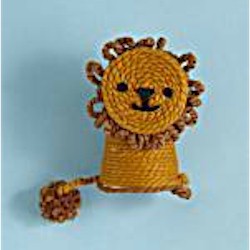 Kids like to create crafts with yarn but often don't know how to crochet or knit. This Yarn Wrapped Lion gives them an opportunity to raid Mom's yarn basket and end up with a wonderful craft.
Supplies
1 ball 640-189 Wool-Ease® Thick & Quick Yarn: Butterscotch 
1 ball 640-125 Wool-Ease® Thick & Quick Yarn: Hazelnut 
1 Pom pom Maker
Small piece of black felt
Small amount of black yarn
Stiff cardboard
Paper or plastic cup 4 in. (10 cm) tall and 3 in. (7.5 cm) diameter across top rim
Craft glue
Instructions
Body
Apply glue to the base of cup.

Cover glued base with A, wrapped in a spiral shape.

Continue applying glue to outside of cup and wrap with A, leaving rim of cup uncovered.

Trim A, leaving a 2 1/2 in. (6.5 cm) tail.

Cut an 18 in. (46 cm) length of B. Apply glue to rim edge of cup, then wrap once with B. Fold remaining end of B into loops to make paws and glue into place along rim edge of cup.

Make a pom-pom with B. Glue pom-pom to end of tail.
Head
Cut a 3 in. (7.5 cm) diameter circle from cardboard.

Apply a small amount of glue to center of circle. Glue A in a spiral over cardboard circle, applying additional glue as needed.

Cut 22 lengths of B, each 4 in. (10 cm).

Fold each length into a loop, glue loops to back of cardboard circle for mane.

From black felt, cut 2 small circles for eyes and a small triangle for nose.

Glue eyes and nose to head. Glue 2 lengths of black yarn below nose for mouth.

Allow all pieces to dry, then glue head to body.
This craft reprinted courtesy of Lion Brand Yarn.
Contributor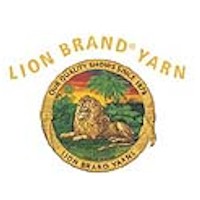 Lion Brand Yarn
Lion Brand is a family-owned and operated business and a beloved American brand since 1878. Today, the business is run by four members of the fourth generation of Blumenthals. It is their passion for yarn, reflected by all Lion Brand associates, that is the secret to Lion Brand's success.