Beaded Flip Flops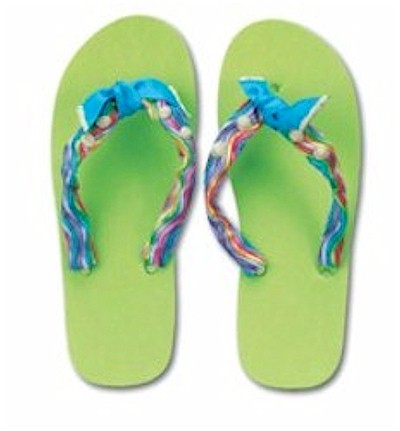 Flip flops are the hottest trend in footwear. Teens will love making this Beaded Flip Flop craft. Give these as a gift or make yourself a pair of stylish, glamorous flip flops.
Supplies
Fashion Beadz-Silver
Palette Knife
Gross grain ribbon
Paper towels
Plastic squeeze bottle with spout
Round toothpicks
Hair dryer with low setting
Low-temp hot glue gun and glue sticks
Scissors
Measuring tape
Flip flops
Instructions
Measure length of strap on one flip flop. Add 1/2″ to this measurement and cut two strips of fabric 3″ wide.
Use your fingers to fold over hem at one end of strip. Use low-temp glue gun to secure hem.
Repeat for other end and on one side of strip.
Attach strip to strap beginning at heel end. Wrap fabric around strap and overlap hemmed end over raw edge; hot glue to secure. Continue up towards toe until whole strip is glued. Repeat steps 1-3 with other flip flop.
Cut two 6″ lengths of ribbon and tie around center of straps tying on outside of toe strap. Trim edges.
With palette knife, scoop and place small dollop of Silver Beadz to side of center. Set Beadz using hair dryer on low setting for a few minutes. Repeat this process as desired. Use palette knife and toothpick to place Beadz along edges of ribbons. Set with hair dryer.
Allow all Beadz to dry completely.
Repeat steps 4-6 with other flip flop.
HELPFUL HINT:
If you want, you can use a squeeze bottle to apply Fashion Beadz. Simply fill a squeeze bottle (with spout) using the palette knife. Cut the opening on the spout so you have at least a 1/4″ opening.
Contributor

DecoArt
DecoArt® has one of the widest selection of paints and finishes for arts, crafts, and home decorating. All DecoArt products are non-toxic and user- and enviromently-friendly. Visit the DecoArt web site for free projects, how-to idea videos, tips and product info, and for the DecoArt on-line store.
Contributor

Sudbudz
Want to have some creative family time? Print out our SudBudz® Masks and get crafty with the kiddos! More than just a typical Fizzy Bath Ball, SudPrize® is a first ever line of skin-loving and natural bath products that make bath time Fun for Kids and Easy for Moms. A Free companion App, SudBudz® engages your children into an immersive world of special and unique characters called SudBudz®.