Woven Key Rings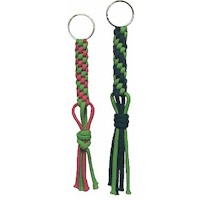 These Woven Key Rings are a great craft for Camp activity for both boys and girls. The lesson in weaving will stay with them for other projects.
Supplies
Key Ring
3 Yards of Flat Cord
Scissors
Instructions
Cut two 54". pieces of flat cord. Pull  them through a key ring to the center of the cord. Cross the cords holding them perpendicular to each other. (fig. A).
Fold strand 1 to opposite side leaving a small loop; (fig. B). Fold strand 3 to opposite side leaving a small loop. Hold strands in place with one hand.
With your other hand, weave strand 2 over strand 3 and under strand 1. Weave strand 4 over strand 1 and under strand 3; (fig. C) Pull tightly. Continue until you have about 4" braid. Tie off securely and trim.
Contributor

Terri Bose of MakingFriends.com
Terri is the creator of makingfriends.com, freekidscrafts.com, scoutswaps.com and badginabag.com. Her work is republished all over the internet and is considered the queen of kids crafts.
Tags key chains