Woven Apple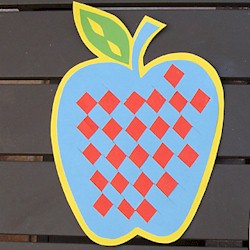 September 9, 2010 is the beginning of Rosh Hashanah. Apples are an important part of the tradition of the Jewish New Year. Use this craft to celebrate your holiday or to teach others about Jewish traditions.
Supplies
Colored Paper
Scissors
Glue Stick
Pencil
Craft Knife
Metal Ruler
Instructions
Draw an apple shape about 4" wide (10cm) or even larger, depending on who will be doing the weaving. If you'll be making some yourself, so small and delicate could be really beautiful. If you'll be doing this projects with kids, so larger is better so that they'll be able to handle the actual weaving of the paper strips.

Turn your apple over to the wrong side and draw and outline within the apple shape, about 1/2" from the edge. This will be your guide for cutting slits. 
Using a craft knife and  metal ruler on a cutting surface, cut diagonal slits on the apple within the outline you've created in step 2

Cut strips of paper the same width as the slits you cut in the apple

Weave strips, you know, under over, under over until you've filled the whole shape.

Strips who end on the front of the apple should be trimmed such that they end in a square, and affixed with glue. ( I used a glue stick.)

Glue ends on back of apple down to secure.

Mount woven apple onto another background piece of paper (yellow here) add a leaf and trim leaving a small colored border around your apple.

I was thinking how very lovely these would look in neutral colors like beige, white, gray, for a sophisticated take on this project, especially if you make the slits and strips delicate!
This craft is reprinted courtesy of CreativeJewishMom.com.
Contributor

CreativeJewishMom.com
Visit me at CreativeJewishMom.com. on the exciting journey of giving greater meaning to the everyday through creativity. This blog is my way of sharing with you the joys of crafting, decorating, cooking, and gardening. I love simple ideas, recycling and quick transformations.