Violet Flowers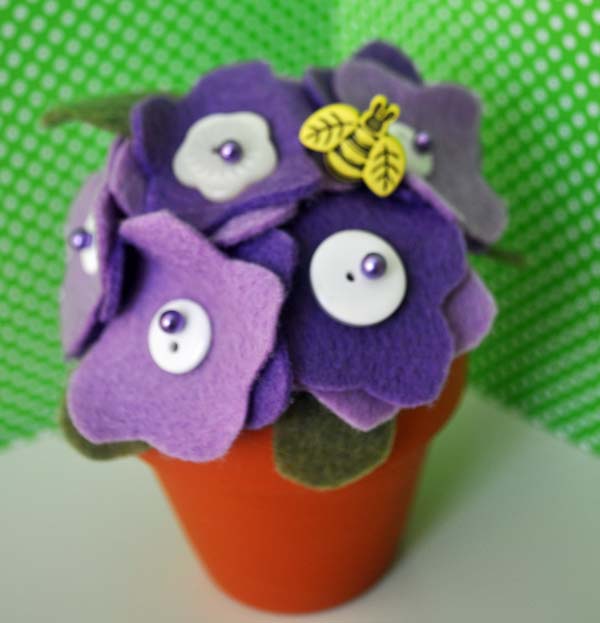 These Violet Flowers make a perfect Mother's Day gift that is easy to make. These flowers will never need watering and won't wilt and Mom or Grandma will love them.
Supplies
Rainbow Classic™Felt in Orchid and Lilac for the flowers and Olive for the leaves
Mini terra cotta pot (2.5" tall)
2.5" Smoothfoam Ball
Straight pins with purple heads
White buttons
Bee Buttons from Buttons Galore and More
Instructions
Cut 2 purple flower shapes for each flower. I made 12 flowers, so I cut 24 violet shapes. 6 in light purple felt and 6 in dark purple felt. Also cut 12 green leaf shapes.
Place Smoothfoam ball into terracotta pot.
Stack a light flower shape onto a dark flower shape. Place a leaf beneath. Add a button to the top of the flower.
Attach to the Smoothfoam ball by pushing a straight pin through one of button holes, the felt flower pieces and finally the leaf into the ball. Continue to attach all your flower pieces. Allow some to overlap to create fullness.
Thread the bee button onto a straight pin and stick into the ball, having it hover slightly above the felt blooms.
Patterns, Templates and Printables
Click on a pattern to open it in a new window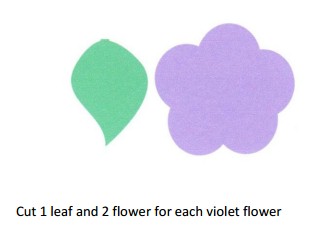 Contributor

The Kunin Group
The Kunin Group, a division of Foss Manufacturing Company, LLC, supplies a wide range of premium quality felt and fabrics to the worlds craft industry. Packaged for retail display, Kunin products are sold in retail outlets worldwide. All Kunin fabrics are made with Ecospun, the high-quality polyester fiber made from 100% post-consumer recycled plastic bottles. We are a green company as we spin the polyester fiber we use.