Victorian Paper Doily Flower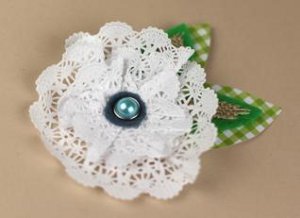 This charming Victorian Paper Doily Flower is perfect for the kids to make as a pin or a hair accessory. You could also use it to decorate a package or a picture frame for someone special. You can probably find some great paper doilies at the Dollar Store for this craft.
Trivia: The earliest known fibula (meaning "brooch") was used to fasten clothing by the Mycenaean civilization in Greece around 1100 BC.
Supplies
XL Glue Dots®
1" Glue Lines®
Mini Glue Dots®
Doilies
Scissors
Felt
Burlap
Patterned paper
Pearl
Instructions
Take an XL Glue Dot and cut the same size hole out of the center of a doily.
Peel off one of the liners covering the XL Glue Dot and adhere the doily around the edge. Pleat the inner circle of the doily if it's too big for the XL Glue Dot. This will form the bottom layer of our flower.
Layer another XL Glue Dots onto the flower. Cut out another inner circle from another doily, this time making the circle slightly larger than the first one.
Crumple and adhere the second doily onto the flower base. Add as many layers as you wish in this manner to make a dimensional flower.
Next cut out leaf shapes in felt, burlap and patterned paper. Adhere everything together using 1" Glue Lines.
Add a felt center and pearl to the flower as well with Mini Glue Dots.
Adhere everything together and you have a pretty flower ready!
Contributor
FaveCrafts.com
FaveCrafts is owned by Prime Publishing LLC, an Internet Media Company that operates web site communities, e-mail newsletters and e-commerce stores in niche areas such as crafting, home décor, wellness, and cooking. See their craft projects at https://www.favecrafts.com/