Valentine Love Notes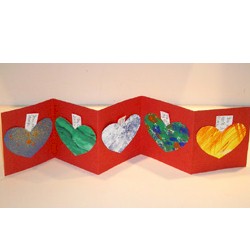 Valentines Day isn't just about ASKING, it's also about Telling those you love how much you love them. This project is perfect for that.
Supplies
Colored paper
Scissors
Glue
Pen
Ruler
Optional:
 Wrapping paper
 Magazines
 Glitter
 Crayons
 Markers.
Instructions
Cut a 20" long by 5" wide strip of red paper. Mark 4 inches for the first fold and accordion fold the rest into equal segments.
Cut out five different hearts to glue into the five sections. Leave the upper part of the hearts open and tuck in love messages written on slips of paper.
Decorate the front with a heart and the message -- I LOVE YOU BECAUSE...the notes will tell why. Here is a perfect place to use creative papers you have designed. Alternatively, use wrapping paper, pictures from magazines or decorate your hearts with crayons, markers, paint and even glitter. Use your imagination.
Contributor

Kabubble
With ten years of "Grand" parenting behind the team at Kabubble they've come up with lots of ideas on how to have lots of fun along the way and they have created treasured memories. This site shares those ideas with all grandparents and parents.