TP Easter Bunny Napkin Ring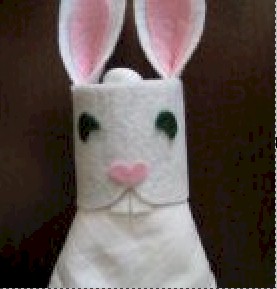 This TP Easter Bunny Napkin Ring is made from simple materials like recycled cardboard tubes and scraps of felt. The finished project makes a great addition to the Easter table.
Supplies
Felt
Paper Towel or Toilet Paper Roll cut about 2" wide
Glue or Glue Gun
Scissors
Felt pieces you will need:
1 strip of felt to cover roll
2 ears
2 ear inserts
2 eyes
1 nose
1 set teeth
Instructions
Glue strip around roll first. If you are using regular craft glue clothes pins come in handy to hold the felt down as it dries.
Glue inserts into ears. I added a bead a glue to the base of the ears after assembled and folded in half. I clothespinned it to the roll.
Folding in half at base allows ear to open face forward.
Glue on features. If desired you can cut out a rounded v shaped notch for mouth area and glue teeth behind.
When dry - fold napkin into a square. Hold like a diamond.
Fold down top corner and fold in sides. Insert napkin into Bunny Ring.
Contributor
FaveCrafts.com
FaveCrafts is owned by Prime Publishing LLC, an Internet Media Company that operates web site communities, e-mail newsletters and e-commerce stores in niche areas such as crafting, home décor, wellness, and cooking. See their craft projects at https://www.favecrafts.com/