TP Bunny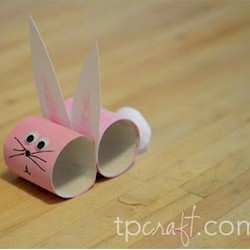 This cute Bunny made from a Toilet Paper roll is a fun project for younger children.
Supplies
1 toilet paper roll
Paint
Brush
Pink crayon
Scrap of white paper
Glue
Scissors
Marker
Google eyes
Cotton ball
Instructions
Cut your toilet paper roll in half and paint it.  We choose to use pink paint with some glitter mixed in.  Allow your cardboard tubes to dry.
Cut two ears from your white paper and color pink in the center of the ears.  I drew an outline for the middle of the ears and then let Cole color them in himself.
Glue your ears between the two tubes.  I used a chip clip to hold it together while it dried.
Add your eyes, tail and draw on a mouth and some whiskers.
This craft is reprinted courtesy of TPcraft.com where you will find complete illustrated instructions.
You might enjoy making this craft as you read one of the following books:
  The Easter Egg by Jan Brett
  The Story of the Easter Bunny by Katherine Tegen and Sally Anne Lambert
  The Easter Bunny That Overslept by Priscilla & Otto Friedrich and Donald     Saaf
Contributor

TPcraft.com
TPcraft.com is the perfect place to find fun and educational activities for kids of all ages.  We utilize toilet paper rolls, paper towel rolls and other cardboard tubes commonly found around the home to create something new and exciting!