Fabric Owl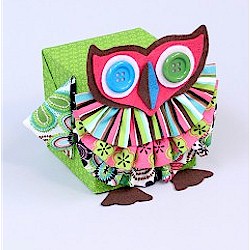 Owls are a favorite of many people. This adorable little fellow can be made in all kinds of color schemes.
Supplies
Make It: Fun® Foam: 4 7/8″ x 4 7/8″ x 4 7/8″ Block
Fabric: 3/8 yd green print
1/8 yd. stripe
1/8 yd. pink floral
1/4 yd. white floral
9″ x 12″ felt: brown, pink, white and turquoise (color coordinating with fabric)
1/4″ diameter coordinated buttons: one each green and turquoise
Two straight pins
Needle and white thread
Iron and ironing board
All purpose glue stick (Elmer's® CraftBond®)
8″ scissors (X-ACTO®)
Ruler
Transparent tape
Glue gun and glue sticks
Instructions
To cover STYROFOAM™ Block (body), use 13 1/2 " x 22" green fabric and wrap around Block as if you were wrapping a gift, applying glue stick to each side of Block as you wrap for a tight, smooth look. Let dry.
Measure and cut 4″ x 18″ strip white floral fabric. Fold fabric lengthwise in half with wrong sides together and press with iron. Hand sew a basting stitch 1/4″ from long raw edge. Pull threads to gather fabric, do not cut thread ends yet. Set aside.

Similarly, cut 4″ x 18″ strips from striped and pink floral fabrics. Fold, press and with newly threaded needle, sew gathering stitches in each piece.
Refer to photo. To attach gathered white floral, align center of folded edge with bottom of Block and curve ends halfway up sides, adjusting gathers to fit. Hot glue behind gathered edge to hold. To finish short raw ends, turn under 1/4″ to back, cut thread ends to 1/2", tuck and hot glue.
Similarly, curve and hot glue pink floral strip, layered 3/4″ above previous strip. Then similarly hot glue striped piece 3/4" above middle strip.

Click on Printables and print out. Use transparent tape to attach patterns to felt and cut out:
Head Layer 1 – brown; Head Layer 2 – pink; Eye Area – 2 white; Beak Half – 1 blue and 1 brown; Feet – brown. Use glue stick to attach all felt. Glue pink head layer onto brown head layer, felt aligning bottom points. Glue eye areas beak halves, aligned at long edges.

Use glue gun to attach buttons, centered on white circles. Position and hot glue feet extending out from bottom of body.

For wings, cut two 6″ x 6″ pieces white floral fabric. With one square, fold in half diagonally, then fold in half again to make fourth-size triangle with multiple layers. For wing, push straight pin through folded corner and insert into top side of body. Hot glue together open points of wing at bottom. Repeat using other fabric square for second wing. Remove pins when satisfied with placement and hot glue top points to body.
This craft is reprinted courtesy of FloraCraft.
Patterns, Templates and Printables
Click on a pattern to open it in a new window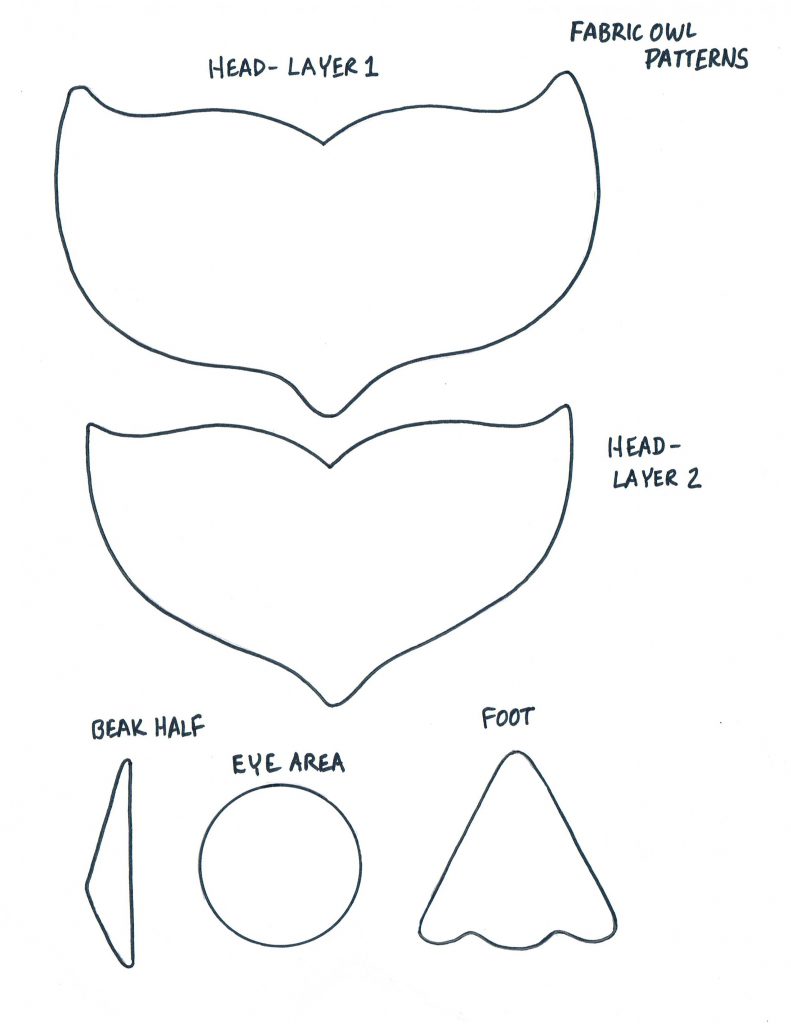 Contributor

FloraCraft
FloraCraft(r), locally owned and operated in Michigan, has beenserving the craft and floral industries for 65 continuous years, providing quality STYROFOAM(tm) Brand Foam in shapes and sheets.  We are dedicated to helping beginners and professionals achieve their best results, FloraCraft products are the foundation of every great project.