Thumbprint Zoo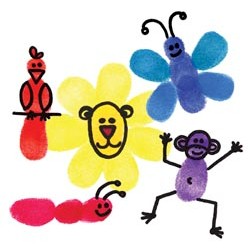 It's amazing what you can turn little thumbprints into with a little imagination. Start the kids out with the critters in the picture and then encourage them to create other animals they might find in the zoo or the jungle with their thumbprints.
Supplies
Paint or Ink Pads
White Paper
Black Marker
Paper Towels
Instructions
Step 1: Using the picture as a reference have the kids select their favorite animal.
Step 2: With the ink pads, students can make thumb print animal bodies on the white paper.
Step 3: Let the ink dry for a few minutes.
Step 4: To finish the animals, add details with the black marker.
They can create all kinds of animals, real and imagined.
Contributor

United Art & Education
United Art & Education offers over 150 Free Project ideas for the art classroom or at home.  Discover a unique selection of products that make learning creative and fun! Choose from teaching resources and decorations, early learning items, and a range of art materials for art educators and students, plus some great gifts.