Paper Bag Lamb Puppet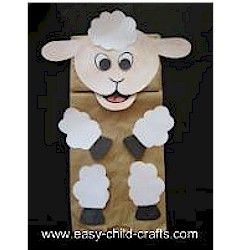 Kids naturally gravitate to puppets. Even the shyest kids can find their voice when aided by a puppet. So grab a lunch bag and some crayons and have some fun!
Supplies
One brown paper lunch bag (ours was bought at Target)
White construction paper
Black marker
Crayons
Scissors
Glue (glue stick or white Elmer's glue will do)
A printer
Instructions
1. Click on Printables and print out the pattern and cut out the puppet pieces.
 
2. Lay them out in front of you. Color the hooves black using your black marker.
3. Glue the top sheep's wool on to the head pattern piece.
4. Color the sheep's face and lower jaw a tan or flesh color. Color the tongue red.
5. Glue the sheep's face onto the bottom part of the paper bag (the flap).
6. Glue the mouth underneath the flap, so that it shows when the flap is down. Use our picture for reference..
7. Glue the legs on.
That's it! Not so bad, right? Now you're all set to put on your very own puppet show!
Enjoy!
This craft is reprinted courtesy of Easy Child Crafts.com where you will find complete illustrated instructions.
Patterns, Templates and Printables
Click on a pattern to open it in a new window