Thanksgiving Centerpiece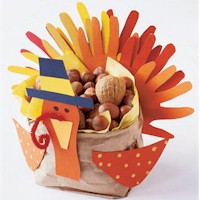 Kids will enjoy seeing their handiwork displayed on the Thanksgiving table for your friends and family to see.
Supplies
Construction paper in assorted colors
Paper bag
White glue
Red chenille stem
Instructions
Trace your hand on several colors of construction paper and cut out for feather shapes.
Roll back top edge of paper bag and glue on feathers.
Cut out wings, head and pilgrim hat from construction paper. Attach to bag. Use a red chenille stem for the turkey's wattle.
This craft is reprinted courtesy of WomensDay.com
Contributor

Women's Day
WomansDay.com is the online destination for the popular women's magazine and is updated daily with the latest news and advice in a variety of areas, including health, food, family, relationships and style. Whether you are looking for ways to save money or want to find a fun craft project to do with the kids, WomansDay.com has everything you need to "Live Well Every Day."