Teddy Bear Gift Bag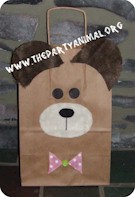 The adorable Teddy Bear Gift Bagw will be treasured long after the party is over. Enlist the kids to help with the the project. They will be so proud of their handiwork.
Supplies
12 Solid Handle Gift Bags – I used Kraft Paper Bags I found in a bundle at the local craft store.
Black Permanent Marker
1/2 yard Off White Felt 1/2 yard Brown Fur Material
Colored Ribbons – I bought various colors for the bows
Colored Buttons
Hot Glue Gun
A Quarter
Instructions
Cut out ears from the Brown Fur in an almost half moon shape just a big wider as you can see in the picture. Glue them to the top of the bag at the corners so they go above the top of the bag.
For the eyes trace a quarter with a pencil for each eye then color in with the black marker. If you want you can even glue on big goggle eyes or even use bigger buttons.
For the mouth area cut a piece of the off white felt into oval shapes and glue onto the bag below the eyes. Careful not to use too much glue that it will bleed through. When the glue dries you can draw your oval nose with the black marker and a line coming down as shown in photo.
For the bow Cut out two triangles from the ribbon and glue on so the points are touching each other. Then take your Fun Button and glue on to the middle to form your bow.
This craft is reprinted courtesy of The Party Animal.

Contributor

ThePartyAnimal.org
If you are looking to have a party to remember then thepartyanimal.org is the right place to come.