Scented Mossy Orbs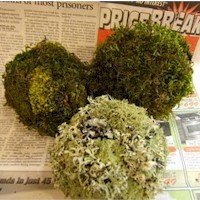 You've seen those balls or orbs all over stores and in magazines. Now you can make your own to give as a gift or just to enjoy yourself.
Supplies
Graduated Circle Cookie Cutters
    or compass
Pencil
Tacky Glue
Pumpkin Pie Spice
Corregated Cardboard
Moss from your backyard
  or the craft store
Instructions
Start with graduated circle cookie cutters (biscuit cutters or even a drawing compass would work) and tracing and cutting those. Cut four of each size.
Dab tacky glue around the edges and coated them with pumpkin pie spice just to add a yummy little scent to them.
Then hot glue them together in two's so that when you are finished you had two little stacks that look like mini layered cakes. Remember that you have four of each shape so there should be two of each size in each of your stacks. 
If your carboard has wording on one side, glue the sides with wording face to face so that you just have plain cardboard showing when you are done. Now you can hot glue the two largest sides back to back to get a vaguely round shape. But don't worry that it's not actually round, you'll fill it in with moss and you won't even be able to tell!
Before you apply any glue, make sure to pick through your pile of moss and choose a piece and eyeball where it would go. Then apply hot glue to a small area and hold the moss there, pressing not too firmly (so as not to squish the moss down) until the glue has a chance to dry a bit. Repeat that step until all the cardboard is hidden. You may have little gaps you have to fill in, just keep adding moss until it looks nice and full.
This is a special gift for someone or something you may want to keep to be special to yourself.
This craft reprinted courtesy of Bit O Shine.
Contributor

Bit O Shine
This blog is the property of Molly Kozera who writes, "I'm always trying new things! Photography to origami, knitting to decoupage. I love to create something from nothing or take something pre-made and generic and transform it. It's all about making do, reusing and keeping the cost low - with style!"