Tahitian Fish Mobile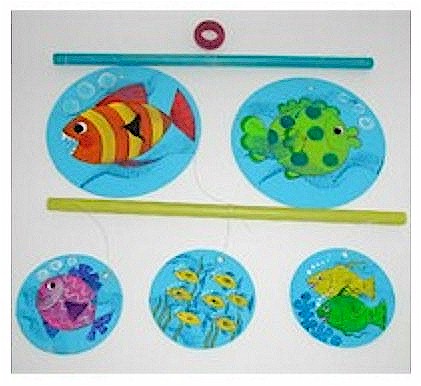 Bring a little of Tahiti's waters into kids rooms with this tropical fish mobile craft. It is a lot of fun to make and will hang around to brighten their days.
Supplies
Packages of large and small circle Paper Mache` Tags
2-12" long dowels with 3 holes drilled through (center and ends)
Fine Point Permanent Marker
Fish line
Stylus
Satin Varnish
Acrylic Paint: Cadmium Orange, Citron Green, Indian Turquoise, Bright Yellow, Titanium White, Lamp Black, True Blue, True Red, Hauser Light Green, Peony Pink, Dioxazine Purple, Desert Turquoise
Craft Twinkles Galaxy Blue
Hot Shots Scorching Yellow, Torrid Orange, Sizzling Pink, Fiery Red, Thermal Green
Brushes: 1" flat, ½" flat, ¼" angular, #3 round
Painting supplies:water basin, paper towel,palette paper,graphite paper tracing paper, pencil,stylus
Instructions
Paint all circles with Indian Turquoise.
Click on Printables for fish patterns and draw fish lightly with pencil onto the circles, front and back. Be creative – draw the body first, then add fins and faces. Decorate them with circles, swirls, plaid or stripes.
Add circles for bubbles coming from each fish – big ones on big fish and small ones on minnows.
If you prefer to use the drawings as patterns, trace them onto tracing paper. Position the design on the disk, then slide graphite paper under it. Hold firmly in place, then go over the lines with a stylus to transfer the design onto the disk.
Paint the fish with the bright colors. Experiment with the brushes holding the brush hairs flat for one stroke and at an angle for another. This will make interesting fins.
When they are dry, you can make them even brighter by going over them with the comparable Hot Shot colors – Fiery Red over your red paint, Torrid Orange over the oranges in your paintings. They will glow!
Experiment again to paint interesting green or blue sea weed around the fish using different brushes.
Outline everything with the marker.
Load the ½" flat with the blue Craft Twinkle to paint waves of glitter around the fish. Let this dry, and then varnish all the disks with satin or gloss varnish.
Construct your mobile, tying the circles to the dowels with fish line.
Patterns, Templates and Printables
Click on a pattern to open it in a new window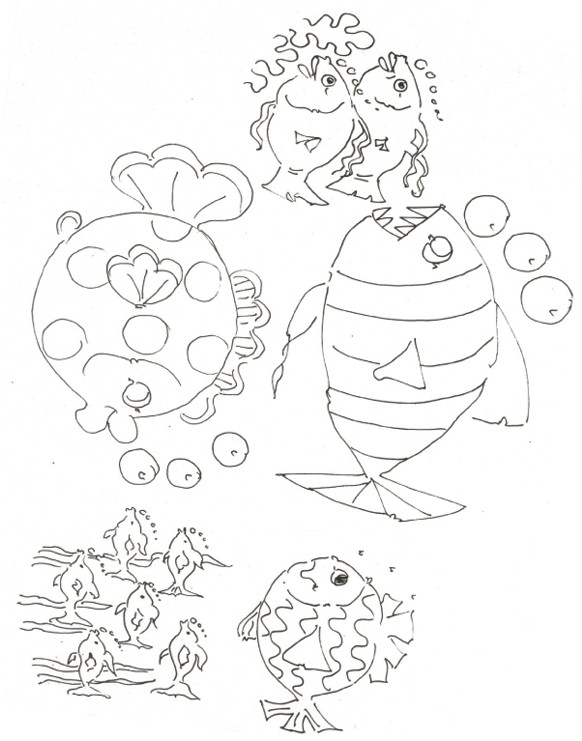 Contributor
HANDS ON Crafts for Kids
Remember what we all say at Hands On Crafts for Kids, "there's no right or wrong way to crafting…only our way!" We hope that you will join us for Hands On Crafts for Kids – Back to Basics.