Tyrannosaurus Rex Box Puppet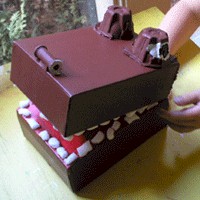 Have the kids recycle those packing peanuts into this Tyrannosaurus Rex box puppet or you can glue on screwed up balls of crepe paper or even uncooked macaroni for a toothy looking T-Rex.
Trivia: Ttyrannosaurus rex is the largest meat eating dinosaur. He walked upright on two legs 66 million years ago.
Supplies
Paint and brushes
Egg carton
Cotton reel (or alternative)
Packing peanuts
White glue
Felt or coloured paper for tongue
Cardboard box
Knife
Tape
Instructions
Select a long solid cardboard box that can be sealed closed at both ends. Paint box a suitable colour for a dinosaur. For extra effect, paint one side red (this will be the inside of the mouth).
Cut box in half along three sides and fold in half to form a box puppet.
Attach segments from an egg carton to form eyes, and a cotton reel to make a nose.
Glue packing peanuts around the mouth to form teeth. It's a good idea to let these dry before you embark on the finishing touches.
Glue on a felt or cardboard tongue.
Paint on some reptilian eyes and your box puppet will be ready to rampage!
Other Images
Click on an image to open it in a new window
Contributor

kids craft weekly
Each issue of Kids Craft Weekly outlines a selection of activities for young kids. The ideas in are intended to be cheap, educational and fun and can be used as suggested, or simply as a starting point from which you can develop your own plan of attack.