How To Make A Rocket Bulletin Board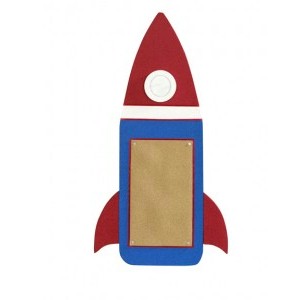 The kids, especially the boys but girls too, will enjoy learning How To Make A Rocket Bulletin Board for their room. This simple bulletin board will fit right in and you can change the colors to fit the decor.
Trivia: Alan Shepard was the first American in space on May 5, 1961. The Russians sent Yuri Gagarin into orbit on April 12, 1961.
Supplies
STYROFOAM™ Brand Foam: 1×12x36"
Acrylic Paint: red, white and blue
Ribbon: ¼" red
Cork Board 9×11"
Metal Wide Mouth Canning Jar Ring
Tin Foil
Foam Cutter
Low Temp Glue Gun
Paint Brushes
Note: Foam Cutter and Glue Gun should be used by a responsible adult.
Instructions
Measure about 15" down from one end of the foam sheet and mark a line across the sheet with a pencil. Use a pencil to draw a tapered point at this end of the sheet for the nose of the rocket. Cut out the nose with the cutter, save the scrap pieces for the wings.
Draw the wings as shown onto the scrap pieces of foam and cut out with the cutter.
Draw rounded corners at the bottom of the rocket and cut off with the cutter. Use the scrap pieces of foam as sanding blocks to sand all the cut edges smooth.
Glue the wings in place. Paint the rocket red white and blue as shown or give it your own look.
Paint the metal ring white. Let dry.
Lay the metal ring on a piece of tin foil and trace. Cut out the tin foil circle and glue in place at the top of the rocket for the window. Glue the metal ring to the foil circle.
Use the ribbon as trim to help hide any uneven lines where two paint colors come together.
Glue the cork board in place on the rocket. Glue ribbon around the edges.
Contributor

FloraCraft
FloraCraft(r), locally owned and operated in Michigan, has beenserving the craft and floral industries for 65 continuous years, providing quality STYROFOAM(tm) Brand Foam in shapes and sheets.  We are dedicated to helping beginners and professionals achieve their best results, FloraCraft products are the foundation of every great project.