Sydney Opera House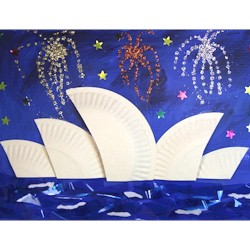 Learn more about the history and culture of Australia as you make the Sydney Opera House from paper plates with the kids.
Supplies
Large piece of cardstock for background
White paper plates
Blue paint
Paintbrush
Blue cellophane
Stars
Glitter Glue
Glue stick
Scissors
Straight edge
Instructions
Paint cardstock blue and let dry.
Using picture as reference cut paper plates into crescents.
Line the plates up using the picture as a reference and draw a straight line across the botton and cut for the foundation.
Glue the plates according to the picture.
Cut strips of blue cellophane and glue onto the bottom of your picture to represent waves.
Paste on stars for the night sky.
Paint glitter glue in the form of fireworks to complete the celebration.
Contributor

Jellyfish Jelly – Creative Kids
Jellyfishjelly is the work of Miya Maeda."My work is intended to be a simple guide for non-crafty, "creatively-challenged" parents.  The concept behind this site arose from what I perceived to be the near universal need for parents of small children to find novel and challenging activities to occupy what can sometimes seem like a very long day."