Felt Rose Broach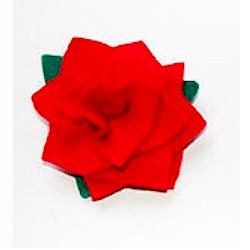 Make a rose or other three-dimensional flower brooches out of felt. They're a perfect handmade present for mom on Mother's Day or for Grandma on her special day.
Supplies
Felt
Scissors
Craft wire or pipe cleaner
Pencil
Safety pin
Beads (optional)
Instructions
1.Cut five squares from felt sheet, one square bigger than the next.
2.Arrange the squares by size, with the biggest square at the bottom and the smallest square on top. Each square should also be positioned in such a way that its corners are sticking out, creating the effect of multiple layers of petals.
3.With the felt squares in place, mark two points (about 1 inch or more apart) on the top square with a pencil. Apply pressure on each point so that impressions are created on the squares below.
4.Mark the same points on each of the squares.
5.Punch holes on the marked points.
6.Cut craft wire or pipe cleaner into a 3 to 4-inch long piece.
7.Bend the wire in the middle and insert the wire ends through the holes on the smallest felt square. Move the felt square up along the wire.
8.Do the same with the rest of the felt squares, working from the smallest to the largest square.
9.If you want to add leaves, cut out a green triangle from green felt sheet, punch 2 holes, and insert through the wire ends.
10.Insert a safety pin through one of the wire ends.
11.Twist the two legs of the wire together against the felt leaf. Make sure that you are twisting the wires around the safety pin's fixed side. Twist as tightly as you can to cause the felt flower to crinkle and tighten towards the center.
12.Cut the excess length of wire and fold the ends towards the felt leaf.
13.This rose brooch would make a great Mother's day gift or birthday gift for mom or grandma! 

More Ideas
To make other kinds of three-dimensional flower brooches, cut the felt sheet into flower shapes instead of squares then follow the rest of the steps for the rose brooch. You can add some beaded filament at the center of the flower by inserting craft wire through the wire loop at the center of the flower and stringing beads through each wire.
This craft reprinted courtesy of First Palette where you will find complete illustrated instructions.
Contributor

FirstPalette.com
A free resource for fun and educational kids' crafts, the site features a step-by-step guide for each craft project and includes printable templates, art recipes, and environment-friendly tips for crafting.