Sweet Beer Mug For Father's Day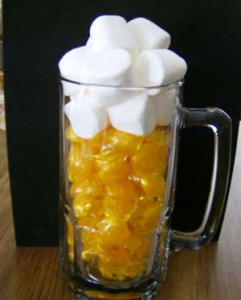 This Sweet Beer Mug For Father's Day is a fun gift for kids to put together for Father's Day. The sweet treats will be enjoyed for a short time while the beer mug will be a long lasting reminder of how much the children love their Father. The Dollar Store may stock these mugs.
Supplies
Glass beer mug
Large bag of butterscotch candies
10 Large marshmallows
Cellophane
Ribbon
Instructions
Take glass beer mug (I bought one at Walmart for $2.87) fill 2/3 of the way up with the butterscotch candies ($1.00 at Walmart).
Fill remaining area in mug and a little higher with marshmallows.
Wrap in cellophane and wrap with ribbon.
Contributor

ThriftyFun
Our goal at ThriftyFun.com is to provide valuable information to help people save money, save time and solve problems. ThriftyFun and its predecessors have been online since 1997. ThriftyFun has grown from modest beginnings to become a vibrant online community. Today, ThriftyFun.com is an interactive Web site where you can post questions and contribute answers to others who are trying to have fun while saving money.