Tie Dye Tee Shirt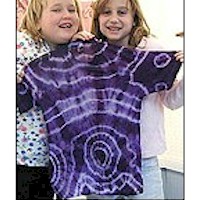 Print This Craft
Try this super easy tie dye tee shirt for kids done the "old school" way. It will bring back fond memories of your own earlier years and the kids will love wearing their craft creation.
Supplies
Fabric Dye*
Rubber Bands
Rubber Gloves
Marbles
Tap Water
Tee Shirt or BandanaFabric Dye*
*Rit Dye is usually available in the housewares department of your local grocer or discount department store.
Instructions
For the purposes of simplicity, we chose to use one color per garment, rather than multiple colors that are so often seen. You can also use colored garments and use a contrasting dye color to achieve the same results.
Begin by rubber banding your garment according to the design you wish to achieve. See the pictures below followed by the method in which to reach that result.
For the Sunburst  look in the first three pictures you need a marble and several rubber bands.
For the Circle look in the second row of pictures you need a marble and one rubber band per circle.
For the lines in the last row of pictures you only need rubber bands.
Prepare dye according to package directions. Be sure to wear rubber gloves to protect your hands! Dye can be just as damaging as bleach to your unprotected skin. Please take the proper safety precautions recommended.
Once your garment is ready, place in the dye for at least 15-20 minutes. The longer the garment remains in the dye, the darker and deeper the color will become. Remove from the dye and rinse according to package directions, usually in cold running water. Ring out garment until water runs clear.
Carefully remove rubber bands and marbles to reveal your new design! No design will be the same as another and different effects can be reached by combining the different methods mentioned above. See below for our results and be sure to have a good time!
Other Images
Click on an image to open it in a new window
Contributor

Crafts By Amanda
Amanda Formaro is the crafty, entrepreneurial mother of four children. She loves to bake, cook and make crafts. She is the craft expert for FamilyCorner.com and Kaboose.com. You can see her crafty creations on http://craftsbyamanda.com" Amanda's Crafts by Amanda and her delicious recipes on http://www.amandascookin.com/ Amanda's Cookin'.