Striped Paper Plate Fish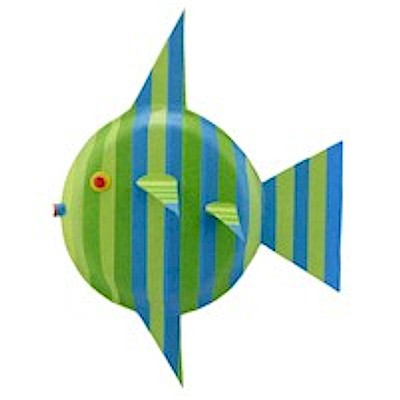 Give kids some simple craft supplies and make them into a sea full of unique and delightful fish. We made this Striped Paper Plate Fish but you can make your own designs.
Supplies
2 small paper plates
Old box or some cardboard
Tape for customizing
Instructions
Trim your plates!
Start out by trimming both of your paper plates. You want to cut off the edge that rolls back down. This way when you tape the two halves together, there will be a nice clean edge. I carefully held my paper plates together, facing each other and then cut the excess off.
Cut out your fins!
Next I cut out my fins from an old box. You could play around with different designs, cutting them out and holding them up to your fish body. When you like one, tape it to the inside of one of your paper plates. I added one flipper and two fins.
Attach the plates together!
I attached both paper plates together using my hot glue gun but you could just as easily use tape or regular glue.
Color your fish!
At this point you could draw eyes in and use markers to make cool designs on your fish.
VOILÀ! — a paper-plate fish! Now you can attach a piece of string to it and hang your fish from the ceiling. The most important thing is to experiment and try new ideas.
Finish your fish!
Now this is where i spent some time: decorating my fish. First I tried running my tape stripes in different directions and decide on the vertical look. Then starting at the tail I carefully stuck a piece of blue masking tape down, leaving it long. I then stuck a piece on the opposite side and in the same location. Have fun with your fish!
Patterns, Templates and Printables
Click on a pattern to open it in a new window to print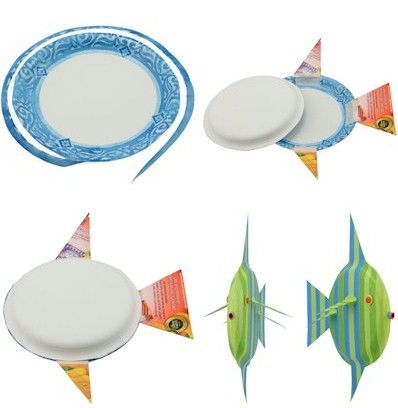 Contributor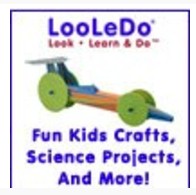 LooLeDo.com
Fun Kids Crafts, Science Projects and More. Step-by-step instructions for hundreds of incredibly cool crafts and science projects that can be built from everyday household objects.
Contributor

Sudbudz
Want to have some creative family time? Print out our SudBudz® Masks and get crafty with the kiddos! More than just a typical Fizzy Bath Ball, SudPrize® is a first ever line of skin-loving and natural bath products that make bath time Fun for Kids and Easy for Moms. A Free companion App, SudBudz® engages your children into an immersive world of special and unique characters called SudBudz®.