Sticky Spider Web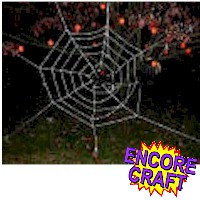 Kids can create a spider web to hang up somewhere spooky. Halloween is a wonderful time for crafts.
Books You Might Want to Read:
Charlotte's Web
by E. E. White
Diary of a Spider by Doreen Cronin and Harry Bliss
Miss Spider's Tea Party by David Kirk
Other Spider Crafts to Make Story Time More Fun:
Supplies
White yarn
Scissors
White glue
Water
Bowl
Wax paper
Paintbrush
Glow-in-the-dark paint (if you want your spider web to glow)
Measuring stick.
Instructions
To begin lay out a large piece of wax paper to work on.
Make a gluey mixture in your bowl by adding 1 tablespoon of glue with one tablespoon of water.
Next take your yarn and cut four two foot long pieces, soak them in the gluey mixture and then arrange them on the paper crossing one another to create a spokes.
Next cut a long 6 foot piece of yarn and soak it in the mixture.
Now starting from the center of the spokes you just made, lay down the long piece slowly creating a spiral - this will fill out your web.
When you are finished let it dry.
Paint it so it glows if you wish.
Peel it off slowly and hang it someplace cool.
Enjoy Crafting!
This craft reprinted courtesy of thebestkidsbooksite.com.
Contributor

thebestkidsbooksite.com
This site contains suggested reading material and crafts to help young readers relate to the stories.