Sleepy Snake from Pantyhose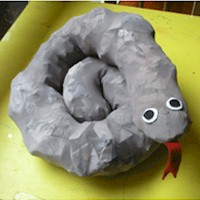 Your little ones will love ripping and scrunching newspaper to stuff this sleepy snake. The sticky variety of velcro dots work well to hold the snake in a coiled position and also allow kids to un-coil and re-coil the snake to their heart's content. If you don't have access to any you can just use strong double sided tape.
Supplies
An old pair of pantyhose, gray was used here
Stuffing (rolled up newspaper, tissue paper or rags)
Red felt or piece of red ribbon
Google eyes or pieces of white and black felt
Stick-on velcro dots or double sided tape
Acrylic paint (optional)
Instructions
Cut one of the legs from an old pair of pantyhose then stuff with scrunched up newspaper till it looks suitably snake-like.
Tie a knot in the end. If your pantyhose are not the right color for your particular snake, paint to whatever color makes it perfect for you.
Glue on some eyes and a tongue.
Curl the sleepy snake in a coil, using velcro dots to join it together.
This craft reprinted courtesy of kidscraftweekly.com.
Contributor

kids craft weekly
Each issue of Kids Craft Weekly outlines a selection of activities for young kids. The ideas in are intended to be cheap, educational and fun and can be used as suggested, or simply as a starting point from which you can develop your own plan of attack.