Springtime Yarn Bug
Bugs and Insect Crafts for Kids, Camp Crafts, More Boys Crafts, More School Crafts, Pipe Cleaner Crafts, Spring Crafts, teachers, Teen Crafts, VBS Bayou Crafts, VBS Camp Out, VBS Jungle Crafts, Yarn Crafts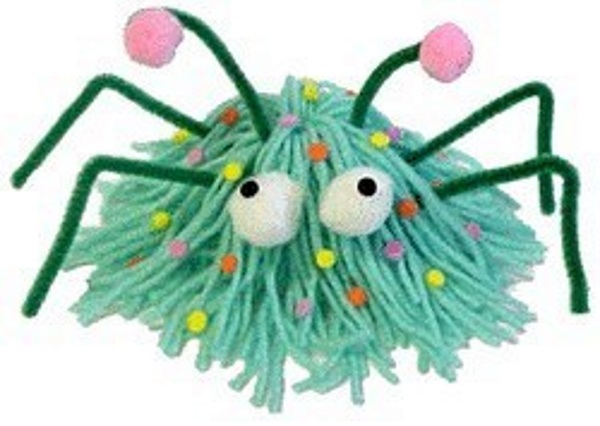 The bugs come alive in the spring and we're bringing you the cutest Springtime Yarn Bug you'll ever want to see. This is just one of the many yarn bugs you will find on our site.
Trivia:
Did you know that one ladybug eats more than 5,000 insects in its lifetime? Source: National Geographic – 25 cool facts about bugs
Supplies
Aqua Yarn (or any color you like)
Two White Pompoms
Two 1/2″ Pink Pompoms
Pink, Yellow, Black and Orange Foam Scrap
Three Green Pipe Cleaners
2-1/2″ Styrofoam Balls
5″ Square of Cardboard
Tacky Glue
Scissors
Instructions
Make a pompon by wrapping yarn around floppy disk (or heavy cardboard) as least 100 times.
 Cut a 6″ piece of yarn and slide it under wrapped yarn. Tie tightly into a double knot.
 Turn floppy over and cut completely through yarn on this side. Turn yarn blob sideways and smooth down strands.
 Ask on adult to slice off the bottom of the Styrofoam ball so it stands on end.
 Cover the top and sides of the ball with tacky glue
.Separate the strands of the pompom to fit the Styrofoam egg up inside. Press pompom into place. Arrange yarn.
 Cut pipe cleaners in half. Poke through yarn and into Styrofoam ball. Bend four for legs.
Gently curl the two for antennae.
 Glue two white pompoms for eyes, and two pink pompoms for antennae tips.
 Punch holes out of craft foam and glue on all around bug.
Glue two black holes on pompom for pupils on the eyes.

Supplies
Instructions
Contributor

Sudbudz
Want to have some creative family time? Print out our SudBudz® Masks and get crafty with the kiddos! More than just a typical Fizzy Bath Ball, SudPrize® is a first ever line of skin-loving and natural bath products that make bath time Fun for Kids and Easy for Moms. A Free companion App, SudBudz® engages your children into an immersive world of special and unique characters called SudBudz®.
Tags yarn bugs