Snowman Wall Hanging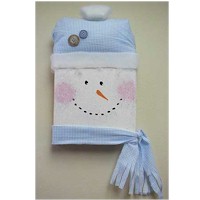 This cheerful snowman will greet visitors as they come in the door. Hang him on the door, in the entryway, above your kitchen counter, wherever his cheerful face fits best!
Supplies
Square or rectangular block of wood
(Editor's note: Why not recycle heavy cardboard from a box instead of wood for young crafters)
Sandpaper if using wood
Acrylic paint in white, black, orange, and pink
Material scraps for hat and scarf
Cotton batting
Buttons
White plush felt
White craft glue
Craft wire
Small picture nails (optional)
Hammer (optional)
Splatter tool or toothbrush and black or dark brown paint (optional)
Instructions
Prep
Begin by sanding all rough edges around the wood to eliminate the possibility of painful splinters. Paint the entire piece of wood white and allow it to dry. Paint a second coat of white and allow that to dry completely. If you choose, you may use a splatter tool or toothbrush to fleck on small dots of brown or black paint for effect. Let dry.

Face
Using a small paintbrush, dot on two black eyes and a dotted smile. Use orange paint for a carrot nose. Using a large paintbrush (a sponge can be used also), dot on pink paint for the cheeks. Allow it to dry completely.

Finishing Touches
Lay snowman face down on work surface. Position material as the hat and wrap around "head", careful tack in place with nails and/or glue. Place cotton batting in top of hat and fold over material to create a hat, tack in place. Use a strip of plush felt to create the brim of the hat, use glue to adhere. Make sure all seams are in the back. Position a strip of material as the scarf, tack and/or glue in place. Tie ends and fringe ends with scissors. Flip snowman over and glue on buttons to the front of the hat and a folded piece of plush felt for the top of the hat.

Hang
On the back of the snowman you may either drill a hole to position over a nail on the wall, or use craft wire to create a hanger. To do this, simply cut a piece of wire long enough to reach across the back of the snowman with about an inch of slack. Tack the two ends in place with wall nails.
This craft is reprinted courtesy of Amanda Formaro of CraftsByAmanda.com.
Contributor

Crafts By Amanda
Amanda Formaro is the crafty, entrepreneurial mother of four children. She loves to bake, cook and make crafts. She is the craft expert for FamilyCorner.com and Kaboose.com. You can see her crafty creations on http://craftsbyamanda.com" Amanda's Crafts by Amanda and her delicious recipes on http://www.amandascookin.com/ Amanda's Cookin'.