Snowman Jar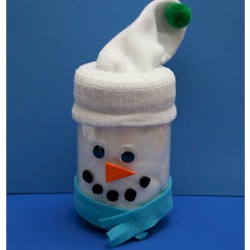 This snowman jar is a cute winter craft to make with your kids. They will love filling the jar with cotton balls and it provides a great tactile part of the craft as well. Add on some simple craft foam features, or be creative and add something unique that your child imagines themselves. This snowman craft is a fantastic preschool craft to make on a cold winter afternoon and your kids will love it.
Supplies
Empty (clean) peanut butter jar
Cotton balls
Black and orange craft foam
Child's sock
Piece of felt
Glue (or glue dots – one of our new favorite products)
Scissors
2 googly eyes
Instructions
Fill the peanut butter jar with cotton balls. Try to squish them into the jar tightly. Put the lid on the jar.

Glue on two googly eyes.

Cut a small orange triangle out of craft foam and glue it under the eyes as a nose.

Cut some small circles out of black craft foam and glue them into a smile on your snowman.

Cut a piece of felt that is able to wrap around the jar. Glue it into place towards the bottom of the jar.

Roll the bottom of the sock up and fit it over the lid of the jar as a hat.
This craft is repreinted courtesy of AllKidsNetwork.com.

Contributor

AllKidsNetwork.com
All Kids Network is a network of websites dedicated to providing fun and educational activities for parents and teachers to do with their kids. We have hundreds of kids craft ideas, kids worksheets, printable kids activities and more. So far, we have two main sites - allkidsnetwork.com and kidslearningstation.com.
Tags kids craftssnowman crafts for kidswinter crafts for kids