Snowman Favor Treat Bag Craft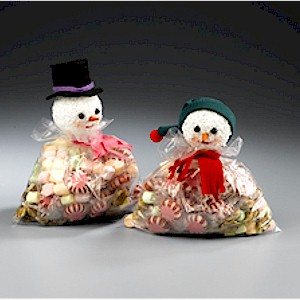 The kids love to create special treats for Christmas and this Snowman Treat Bag makes the perfect favor for a December birthday or Holiday party.
Supplies
STYROFOAM Ball, 2"
Ruler
Pointed Wooden Skewer
Toothpick
Small Paintbrushes: round; disposable foam
Disposable Palette
Water basin
Paper Towels
Scissors
Craft Knife or small saw(used by adult)
Thick, White Craft Glue
Acrylic Paint: Orange and Red
Loose Craft Snow
Felt Scraps: Black and Purple
Knit Fabric Scraps: Red, Green, Pink
Small Red Pom Pom
2 7mm black half round beads
Cosmetic Blush or Chalk
Clear Treat Bag with Twist Tie
Candy of Choice to Fill Bags
Instructions
Glue blunt end of skewer half way into styrofoam ball. Sprinkle generous amount of craft snow onto disposable palette.
Use disposable foam brush to apply layer of craft glue on surface of foam ball. Using the skewer roll the foam ball in the crafts snow to completely cover the surface. Use fingers to press snow into glue. Stand skewer in jar or glass to allow ball to dry.
Leaving Snowman head attached to blunt end, use 1" brush to paint the pointed end of the skewer orange. When dry use craft knife to cut off and glue as nose for the snowman. Glue on half round beads for eyes.
Use toothpick to paint red smile on snowman. Use finger to apply blush for cheeks.
Cut hat patterns from fabrics using picture as reference or use your own imagination.
For top hat cut 1 1/4" X 5" black felt strip for the crown. Glue short ends of crown into a tube that just fits around the center hole in the brim. Glue crown to brim and top to crown, let dry. Cut thin 5" purple felt strip and glue around the base of the hat crown for band. Hot glue hat to head.
For stocking hat, with right sides together, glue seams together where indicated by dashed line on pattern, let dry. Turn hat right side out and turn up bottom edge to create cuff. With seam at center back, hot glue hat onto snowman's head. Glue red pom pom to tip of hat.
Fill treat bag with desired candy and loosely tie with twist tie. Cut snowman skewer to 3" length and insert into bag. Twist tie tightly to secure snowman.
Now your snowman favor is ready to party.
Contributor

Styrofoam Brand Products
STYROFOAM™ brand from Dow is one of the most trusted and widely known brand names in the craft industry. From Christmas ornaments to wedding topiaries, they have helped shape your crafting memories for 60 years. Today, their high-performance foams are helping you make tomorrow's memories.