Fabric Tucked Trees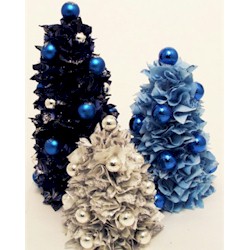 These Fabric Tucked Trees make a great project for the family to work on together. They are fun to make and make beautiful decorations.
Supplies
STYROFOAM™ Brand Foam
Cones: 12", 9", and 6"
3" – 4" Squares of Fabric (12" cone uses about a 3/4 yard of fabric)
Mini Ornaments
White Clear Drying Craft Glue
Glitter
Metal Nail File
Sponge Brush
Low Temp Glue Gun
Instructions
1.Start at the bottom of the cone.  Lay a square of fabric right side up on the side of the cone and use the metal nail file to tuck the center of the fabric into the bottom edge of the cone.  Push fabric in just far enough to ruffle the edges, as shown.  Continue tucking in fabric squares about ½" apart to cover the entire cone.

2.Use the low temp glue gun to glue the mini ornaments evenly spaced into the fabric trees.  Glue one ornament as a tree topper.

3.Thin white glue with water and brush glue over edges of fabric and tops of ornaments, sprinkle trees with glitter.
This project is reprinted courtesy of FloraCraft.
Contributor

FloraCraft
FloraCraft(r), locally owned and operated in Michigan, has beenserving the craft and floral industries for 65 continuous years, providing quality STYROFOAM(tm) Brand Foam in shapes and sheets.  We are dedicated to helping beginners and professionals achieve their best results, FloraCraft products are the foundation of every great project.