Snowman Thank You Poem and Coloring Page Activity
Cards to Make, Christmas Crafts, Coloring Pages, Early Elementary Craft, Gifts to Make, Home Slider, More Boys Crafts, parents, Party Crafts, PreSchool Crafts, Snowman Crafts, Winter Crafts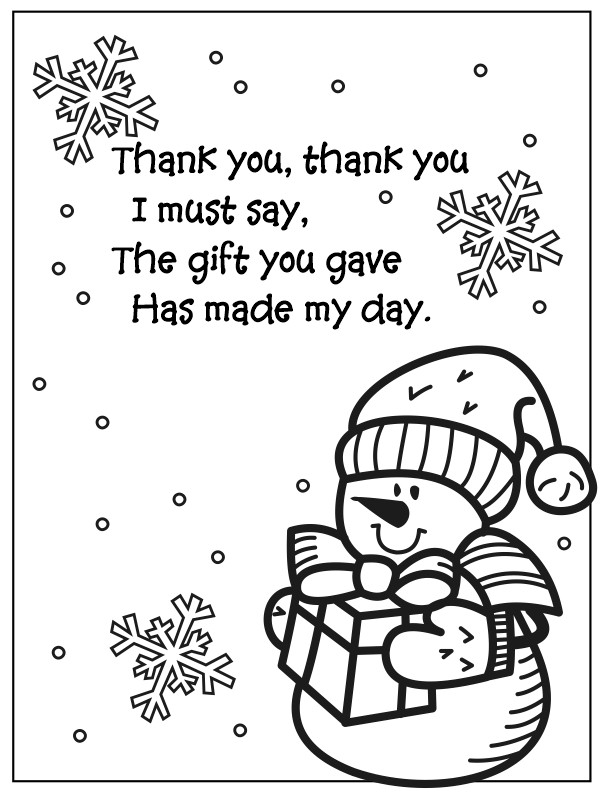 It's important to teach children at a young age that a  thank you note for a gift is good manners. This Snowman Coloring Page Thank You Poem is the perfect way to get them started. Have them start right after Christmas so they understand the connection between receiving gifts and the giver who gave them.
Trivia:
If you are a parent now, it might be worth taking a moment to consider some gift receiving etiquette rules to give your child the tools to appropriately and politely deal with what will inevitably be a common event in their adolescent lives. Source: Holidappy – Gift Receiving Etiquette and Manners: A Guide for Children
Supplies
White Paper
Crayons, Markers or Colored Pencils
Instructions
Print out enough pages for each gift received
Set the child down in a comfortable place with his/her favorite coloring materials and let them show their appreciation for the gifts received.
It would be good to add the gift givers name to the note and have the child sign their name.
Coloring Page


Supplies
Instructions
Contributor

Sudbudz
Want to have some creative family time? Print out our SudBudz® Masks and get crafty with the kiddos! More than just a typical Fizzy Bath Ball, SudPrize® is a first ever line of skin-loving and natural bath products that make bath time Fun for Kids and Easy for Moms. A Free companion App, SudBudz® engages your children into an immersive world of special and unique characters called SudBudz®.
Tags thank you cards