Simple Patty Pan Flowers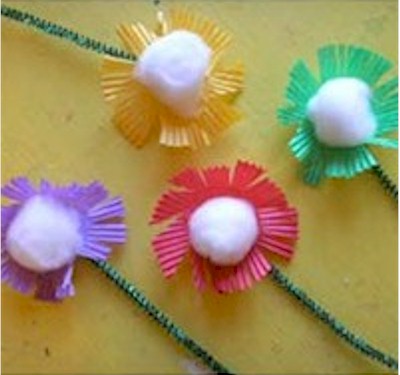 Supplies
Patty pans (cupcake or muffin cases)
Cotton wool balls
Pipecleaners
Scissors
Glue
Sticky tape
Polystyrene (or a potato)
Instructions
Using child-friendly scissors, chop into the edges of the patty pan.
Tape a pipe cleaner to the back.
Glue a cotton ball to the centre.
And there you have it! If you want you can stab the pipecleaner stems into a piece of polystyrene to make a flower bed. If you don't have any, a potato will work just as effectively!
Contributor

kids craft weekly
Each issue of Kids Craft Weekly outlines a selection of activities for young kids. The ideas in are intended to be cheap, educational and fun and can be used as suggested, or simply as a starting point from which you can develop your own plan of attack.
Newsletter
Subscribe to our free newsletter to get creative crafts mailed to your inbox.