Silly Spectacles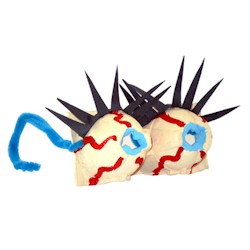 Any day is a fun day to put on a pair of Silly Spectacles and goof around. So recycle some of the egg carton and get ready to have some fun.
Supplies
Elmer's Glue-All™
Elmer's 3D Washable Paint Pens™
Cardboard Egg Carton
Acrylic Paint
Chenille Pipe Cleaners
Fake Eyelashes or Black Construction Paper
Scissors
Instructions
1.Cut out a two-cup section from a cardboard egg carton. Poke out the bottoms of the cups for eye holes.

2.Cut a small hole at the top of each cup on the outer edge. This is where the pipe-cleaner "frames" will go.

3.Paint the egg-carton glasses any color or combination of colors that you choose. Let the paint dry completely.

4.Use Elmer's 3D Washable Paint Pens™ to decorate the glasses. Glue fake eyelashes to the glasses or make your own eyelashes out of black construction paper. Let the glue dry completely.

5.Insert a chenille pipe cleaner into each hole to make the stems of the eyeglass frames.

6.Bend the chenille pipe cleaners so that they fit snuggle around your ears. Enjoy wearing your new silly spectacles!
This craft is reprinted courtesy of Elmers.com.
Contributor

Elmers