Ants On A Log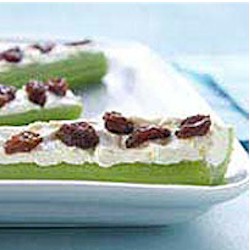 Getting kids to eat healthy snacks isn't always easy. This tasty little treat is jus kooky enough to appeal to young kids.
Supplies
8 stalks celery, each cut crosswise into 3 pieces (3 to 4 inches each)
1 tub  (8 oz.) PHILADELPHIA Cheesecake Flavor Cream Cheese Spread
1/2 cup raisins
Instructions
FILL celery with cream cheese spread.
TOP with raisins.
This project is reprinted courtesy of KraftRecipes.com.
Contributor

Kraft Foods
For over two hundred years, many companies have united to make Kraft Foods what it is today. Check out their heritage page and learn the many companies that comprise the Kraft family of foods.