Seed Napkin Rings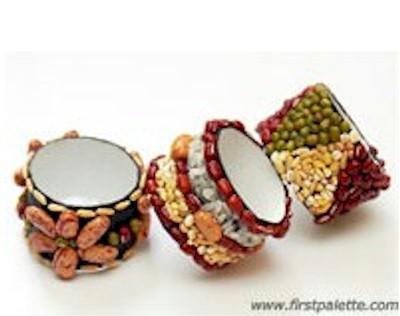 Make a seed mosaic around cardboard tubes to create these earthy and charming seed napkin rings that are perfect for a Thanksgiving or garden table setting.
Supplies
A variety of seeds, beans and spices
Cardboard tubes
White glue or tacky glue
Craft knife
Poster paint or acrylic paint
Paint brush
Instructions
Cut a cardboard tube into three sections, with each section about 1.5 inches wide.
Each paper tube section will be the base for your napkin ring. Paint each one with a background color.
Prepare various seeds, grains, beans and spices.
Apply a thick layer of white glue or tacky glue on a small area of the napkin ring base. Tacky glue is a thicker variety of white glue and bonds things quicker than white glue.
Sprinkle seeds onto the glue.
Work on a section at a time. If you're using white glue, you may need to let each section set before moving on to the next. Tacky glue will bond the seeds more readily.
Continue until you have covered the entire surface of the napkin ring. Here are some notes and ideas for your mosaic design:
Doing simple geometric designs like stripes or triangles are the most doable for younger kids because it allows them to just sprinkle on the seeds.
An even more spontaneous option would be to have kids mix 2 or more types of seeds on a tray. After applying a thick layer of glue on the napkin ring, let them sprinkle, spoon on some seeds or roll the napkin ring onto the tray full of seeds.
Try out a more intricate design by carefully lining up the seeds rather than sprinkling them onto the napkin ring.
You don't always have to do a full mosaic. The background can be a charming and integral part of your design.
Allow your finished napkin rings to dry completely.
If you're concerned about the seeds coming off, you can seal in the seeds by covering the surface of the napkin ring with a thick layer of white glue. Squeeze on a glob of glue and spread it with a paint brush, covering even the spaces between the seeds.
White glue and tacky glue will dry clear. These beautiful seed mosaic napkin rings are perfect for a Thanksgiving or garden table setting.
Contributor

First Palette.com
A free resource for fun and educational kids' crafts, the site features a step-by-step guide for each craft project and includes printable templates, art recipes, and environment-friendly tips for crafting.
Supplies
Instructions
Contributor

Sudbudz
Want to have some creative family time? Print out our SudBudz® Masks and get crafty with the kiddos! More than just a typical Fizzy Bath Ball, SudPrize® is a first ever line of skin-loving and natural bath products that make bath time Fun for Kids and Easy for Moms. A Free companion App, SudBudz® engages your children into an immersive world of special and unique characters called SudBudz®.